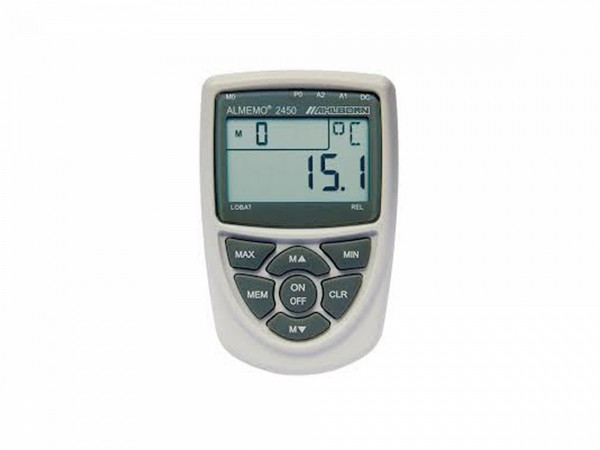 Generously dimensioned 2-row segment display including units Easy and convenient to operate by means of 7 keys.
Over 35 measuring ranges for - Thermocouple and NTC sensors. For the customer's own sensors ready-to-use ALMEMO® connectors are available.
- Atmospheric humidity sensor, capacitive, dewpoint sensor, water detection probe, moisture in wood FHA636MF
- Pressure transducer FDA602L/D, FD8214, FD8612,Tachometer, turbine flowmeter Current clamps FEA604, Voltage / current measuring modules ZA990xAB
- Meteorological radiation probe heads FLA613
- Carbon dioxide sensor FYAD00CO2, Carbon monoxide probe and ozone probe
ALMEMO® plugs with multi-point adjustment are supported.
Measuring functions
Measured value, zero-setting, saving of maximum / minimum values, hold function
Test functions
Segment monitoring, range monitoring, sensor breakage indication, battery voltage check and display.